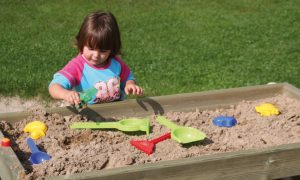 For higher-level learning, to play with natural elements like sand and water is of significant importance for children. It is sensory play that helps a child learn and develop crucial skills. Skills like – sensory exploration, math and science skills, physical development and social skills. It not only helps a child think out of the box but also helps them learn with hands-on materials and awaken their senses. During the play with sand and water, the role of a teacher or an adult is crucial. Play in sand boxes can get messy and children need proper guidance for an optimum learning experience. What is also important is asking questions to extend a child's thinking and help them find answers to their questions. Let your child's imagination run free and help them shape their ideas with higher-level learning experience.
Sand and Water play experiences can be enhanced with high quality sandboxes, water tables and other related play equipment that can ignite a child's imagination, while keeping them safe.
Newton Play now brings you the world's number one brand of play equipment in India like Kompan. Offering an extensive range of sand boxes and water tables to let children play in peace.